Six homes. Six cities. Three continents
Rhode Island School of Design (RISD) Architecture Thesis 2016
Emerged from a context of fast paced globalization, alongside with technological advances and social changes, the urban nomad is torn between a desire for mobility, the need for stability and the sense of belonging. With the generational need for a new type of home that accommodates this urban nomadic lifestyle, can architecture be as mobile as the user? What is the role of architecture in a shared economy? Can spaces be created to break away from the context change and laws, living without borders? This thesis explores the idea of adaptability in architecture through the lens of a nomad. Defined as self, the urban nomad is the lens in which we analyze the idea of home; architecture then is the lens in which we create a home.
These individual proposals are presented collectively as a glimpse of what nomadic architecture means today, as an individual and a collective community. This body of work can be seen as a commentary on lifestyle, class and immigration in a global context.
The urban nomad embodies a privileged individual, who's desire to explore and longing for the familiar has forced us to live a life of temporary accommodations. It is a chosen lifestyle. Urban nomads are city dwellers plugged into the technological world through our computers and mobile devices.
Home is a constant in this framework of chance. The domestic space is one with which we have the most intimate interaction. These spaces are formed as an extension of the body, an archetypal space that mediates our relationship to the world, is a means to critique our daily life. An urban nomad's home extends to multiple places, intact with each through technology. By making home a process rather than something fixed and immutable, a sense of home is recreated in the places they temporarily inhabit.
The Nomadic City
The nomad, constantly on-the-go, cannot be sites but only framed at a particular moment. Is a nomadic home therefore site-less or can space, speed and change be incorporated to create a structure that allows for changeability? A speculative "Nomadic City" is created through a superimposition of works that embody ideas of nomadism, travel, mobility and home at the various scales, from wearable shelters , to pneumatic structures, D.I.Y structures, modular plug-in buildings and cities, a city in the sky and a movable robotic city. "Architecture" and its inhabitants are concurrently mobile, moving, adapting and changing. What will a nomadic city look like today?
Vertical City, Travel & Mobility
Six cities: Providence, New York, Hong Kong, Shanghai Singapore & Sydney were all historically coastal trade ports, now a vertical metropolis interwoven with its landscape. My project is not sited in a physical singular place but in the quality of a place, informed by the physical world and confronted by different conditions. As an urban nomad traveling, cities are reduced to data and statistics; names as airport codes, time become relative in relation to the coordinated universal time, connectivity speed to the Internet. "Home" in this instance is defined as one's possessions, your luggage as a bar code.
The Sharing Economy & Unit
With companies likeAirbnb, the idea of renting a "home" abroad is a button away. Our concept of home has extended beyond the traditional four walls, as a more fluid concept. The suitcase and backpack, a carrier for our belongings has become our home.
Unit types are designed for specific users and needs. Traditionally two bedroom units are designed for a family while a two bedroom rental unit is designed for two strangers to share, each possessing an equal amount of space. Can a unit be designed to specifically host guest while keeping to the ideals of a guest and host? The bedroom in this case has become a individual unit equipped with its own bathroom and kitchenette, but placed within someone else's home.
Ground
The highway, the road, the alleyway are transient space for pedestrians and cars. A home in the context of a transient place is a temporary moment of pause, a place to sleep, eat and shower. By blending in with the highway's infrastructure and the flow of traffic, mobility is optimized.
In the case of the highway, the vertical mechanical structure is designed to hold housing modules. Rotating along the structure, passerby drive directly into the module, which is connected to a bed, kitchen and bathroom. When placed in the context of a dense city, the structure becomes horizontal, tucked on the underside of the highway.
When it comes to crossing international boundaries, our travels are often dictated by ones passport. Accessibility is power and convenience is a luxury. A German passport allows travelers to enter 177 our of 218 countries without a visa, Australia, 169 out of 218 countries and Pakistan, 29 out of 218 countries. Given these varying degrees of accessibility, individuals may benefit from the condition of living on water, granting them the opportunity to live in proximity to an otherwise inaccessible place.
Located in the "Contiguous Zone" at approximately 12 nautical out at sea in international waters, a state can exert limited control over infringement of its customs, fiscal, immigration laws and regulations. For the urban nomad this transient space could mean living without borders.
Home & Village at Sea
The home, prefabricated on land is shipped out and attached onto existing buoys. The design of this home is a modified one bedroom unit. The houseboat is inspired by the catamaran boat typology, where its multi-hulled geometry allows for maximal stability in water. As a singular home at sea is quite vulnerable, together these homes can be plugged into a larger system, the village. As population rises, ferry boats and helicopters can be used to transport people to and from land.
This re-adaptation of an oil rig is separated into three zones. First, a place for boats to dock and plug into the structure, Second a public co-share commercial space, and Third, a private live/work space. Informed earlier designs the issue of surveillance came into question. Regulation zones are placed between each zone to monitor the flow of individuals. The live/work space is organized like a fragmented panopticon, where the living quarters face inwards toward the watch tower and offices face outward towards the sea. Live/work spaces are adjacent to each other.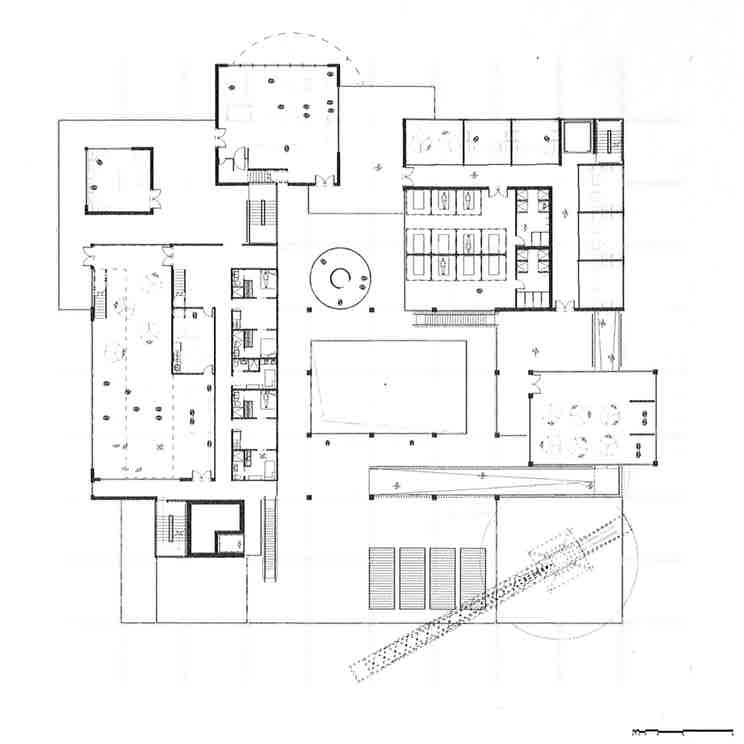 One home. Six cities. Three continenets